Web Analytics for Success
What is Google Analytics? Google Analytics is a free web analytic tool that generates metrics. Metrics are measurements to help you to answer crucial questions about your web site performance and your online marketing business: Is your Web site serving its purpose and helping you to meet your business goals?

Services
With Google Analytics you will be able to see how profitable your last marketing campaign was, where your site visitors came from, what pages they visited, what they were looking for.It will show you for how long visitors stayed on your site, what they did when they were there, how often they return, what's stopping them from placing orders and what makes them drop off.It's important to note that, whilst Google Analytics can provide you with a large amount of data, the value of that data depends on how you put it to work for you.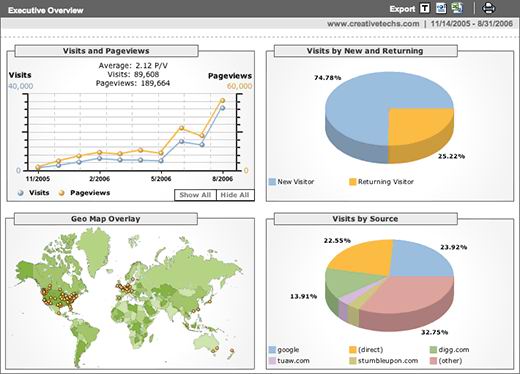 SEO Academy's online marketing staff consists of trained professionals. We can help you with making web analytics one of your most powerful online business tools.
We will provide further support to you and your staff by configuring Google Analytics account to track the right data. You will find Google Analytics very easy to use, due to its clearly measurable results.
SEO Academy's experienced web analysts and marketing experts will help you get the most out of the web analytics program including:
Properly set up and configure the Google Analytics account
Set filters and customize reports to deliver the most relevant data
Set e-commerce Goals and define Conversion Funnels
Analyze segments of your traffic and understand how different segments behave
Track the success of marketing campaigns
See where customers enter and leave your site
Identify ' traffic leaks' and calculate 'Defect Index' of Web pages
Find out what customers search for most
Identify your revenue sources (by campaign, keywords, geographic areas etc)
Determine your ROI
Get a FREE CONSULTATION on how to set up and configure Google Analytics to measure and quantify the value of your leads and sales, improve your web site performance, predict deliver and constantly improve ROI.