Search Engine Marketing
Search engine marketing (SEM) is becoming an extremely powerful new way to engage customers, and it makes the Web experience more important than ever. Pay-Per-Click (PPC), a model that did not exist at the end of the last decade, is the fastest growing segment of all advertising. Murray GaylordVP, Brand Marketing, Yahoo Inc.

Services
Never before in the history of advertising has it been possible to spend a few dollars, write a couple of ads and get instant access to more than a hundred million people in 10 minutes. That is exactly what can be easily done when you start PPC Internet Marketing campaign.It is an awesome concept - but you can loose a fortune if you don't know how it works... Pay Per Click is a great way to advertise, so long as you have the right people looking after your campaign.
GET FREE INTERNET MARKETING CONSULTATION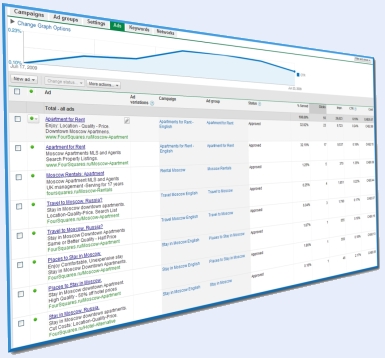 Getting new customers is a real grind for a lot of companies. In many cases it is number-one obstacle to getting a new business off the ground. All these challenges may become a thing in the past when you start advertising in major search engines. Stop chasing your customers with cold calls, direct mail and going to 'no-show' appointments. Start Internet Marketing campaign and customers will come to you within minutes from the major Search Engines. And we are here to help with setting up and tuning your PPC campaign for top performance. If you are already advertising on Google or Yahoo we will help you cut down your bid prices by 30% or even 50% while keeping the volume of traffic on the same or higher level. Our goal: get you more for less. More leads, more traffic, more sales, more of whatever your desired metric may be - for the smallest possible investment.
We will be pleased to learn more about your online marketing campaign business goals and objectives. Use our expertise to improve your online performance to a level your competitors can only dream about. GUARANTEED!
Please contact SEO Academy PPC experts for a FREE CONSULTATION on Internet Marketing.